YPAC 2021
March 23rd to 26th
Online conference organised by Team Trogen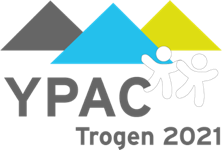 General topic: Children's Rights in the Alpine Region
Subtopics (allocated to four committees)
Committee 1: Personal development and Education
Access to information
How inclusive and participatory is our school system on every level?
Kindergarten
Primary school
Secondary school
Is our school system flexible enough to cope with new, unexpected and/or challenging situations?
Are the subjects taught still relevant in our days? Should subjects be included or replaced?
Committee 2: Health and well-being
Equal rights for all children in the healthcare system
Rights of children in families:
In case of a divorce
In case of conflicts in families
Is enough help available for children in such situations?
(etc.)
How can children exercise their right to decide about their own health?
In case of a [disease]
In case of Covid-19
(etc.)
How can the child's opinion be actively considered in the decision making?
Committee 3: Freedom of expression / participation
Participation on all levels of society:
In politics on national, regional, and communal level
In school on secondary, primary, and kindergarten level
Participation in the institutional response to Covid-19 (mainly concerning school level)
Respecting the opinions of minors and giving them a chance to speak
In what way does our society, family or the media influence the children's freedom of expression or participation? Should there be changes?
Parent/child relation:
To which extent can parents decide for their child?
To which extent can children decide on their own?
Committee 4: Equality / integration / migration
Freedom of religion
Education and integration of children with a migration background
Gender and homosexuality
Equality and integration of children with disabilities
Press Group
Tuesday, 23rd March 2021
---
Here are some photo impressions: